SHARETIPSINFO >>Research Reports >> BAYER CROPSCIENCE (27-02-2009)
| | |
| --- | --- |
| LISTING | |
| | Rs 212 |
| | Rs343/Rs199 |
| | Rs10 |
| | 15500 |
COMPANY OVERVIEW:
The Company was incorporated in 1958 is part of Bayer AG.Company manufactures and deals in insecticides, fungicides, weedicides and other chemical for plant protection purposes, domestic and public health product, rubber chemicals and pharmaceuticals.

BAYER GROUP AND THEIR BUSINESS:
BAYER CROP SCIENCE LTD.: With the acquisition of Aventis CropScience Limited worldwide, Bayer is the undisputed leader in the Crop Protection business in India. The company has production facilities in Thane, Himatnagar and Ankleshwar.

BAYER MATERIAL SCIENCE PVT LTD.: Company is one of the largest producers of polymers and high performance plastics. Its innovative development in coating, adhesive, insulating materials and sealants, polycarbonates and polyurethanes significantly enhances our lives, particularly in the automotive and construction, electrical and electronics, household, sports and leisure sectors. The company plant is located in Cuddalore near Chennai.

BAYER BIO SCIENCE PVT LTD.: The Company is headquartered in Hyderabad, with activities in bioscience to develop hybrid seeds for crops catering to specific farmers' needs across India. The company, incorporated in 1977, is now a part of the Bayer CropScience Group and has emerged as a national player having the advantage of technology transfer, excellent R&D facilities and presence in hybrid as well as field crops.

BILAG INDUSTRIES PVT LTD.: Bilag is a center of excellence for manufacturing and process development chemistry. It is one of the largest manufacturers of synthetic pyrethroids in the world.

BAYER POLYCHEM (INDIA) LTD.: The Company handles the Diabetes Care and Animal Health businesses of Bayer in India.

BAYER BUSINESS SERVICES: Bayer Group's competence center for IT-based services and is a global company. Bayer Business Services in India provides IT services to all the sub-groups. The company's services are tailored to its customers' needs and Bayer Business Services contributes to their success by offering top quality at competitive prices. In India, Bayer Business Services also hosts the IDC (India Delivery Centre) which is the only global off-shoring delivery unit within Bayer Business Services, offering all IT related services to Bayer Business Services Business Units all over the world.

BAYER TECHNOLOGY SERVICES: Bayer Technology Services is a major global technology provider with wide-ranging, recognized expertise. The company delivers fully-integrated solutions to cover the life cycle of plants and processes.
INVESTMENT LOGIC:
Growth witnessed by the company in the sales and profitability.
Trading at PE of 10.PE to Growth ratio looks attractive at 0.25.
Agricultural sector development to boost company`s profit.
Company showed turnaround in Q3 FY2008. Company made loss in Q3 FY2007.
SHAREHOLDING PATTERN:
NO. OF SHARES

% OF TOTAL

PROMOTER

28086662

71.11%

INSTITUTION

4926605

12.47%

GENERAL PUBLIC

6485480

16.42%

GRAND TOTAL

39498747

100.00%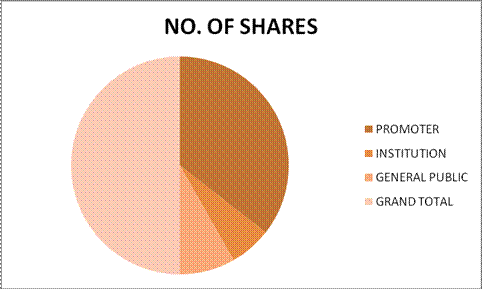 FINANCIAL:
31/12/04

31/12/05

31/12/06

31/12/07

31/12/08

TOTAL INCOME

763.87

718.32

808.47

1035.22

1445.36

EXPENDITURE

-675.36

-606.7

-688.6

-926.61

-1268.85

OPERATING INCOME

88.51

111.62

119.87

108.61

176.51

DEPRECIATION

-26.02

-22.58

-21.86

-20.9

-23.14

PBIT

62.49

89.04

98.01

87.71

153.37

INTEREST

-11.16

-7.44

-8.54

-3.01

-9.94

PBT

51.33

81.6

89.47

84.7

143.43

TAX

-26.04

-37.54

-32.2

-18.95

-50.02

EXTRA ORD ITEM

-0.8

-6.91

-0.42

-11.1

-2.72

PAT

24.49

37.15

56.85

54.65

90.69
CHANGE IN TOTAL INCOME: CAGR IN TOTAL INCOME IS 17.28%.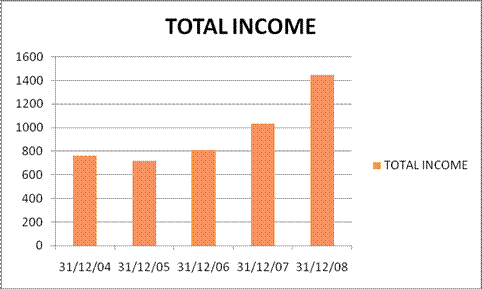 CHANGE IN OPERATING INCOME: CAGR IN OPERATING PROFIT IS 18.83%.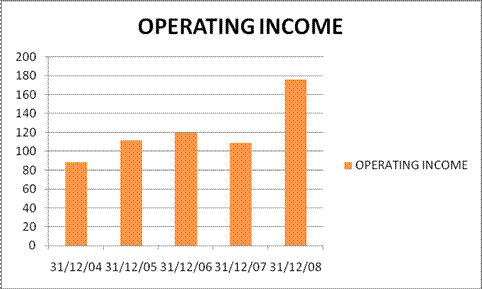 CHANGE IN NET PROFIT: CAGR IN NET PROFIT IS 38.7%.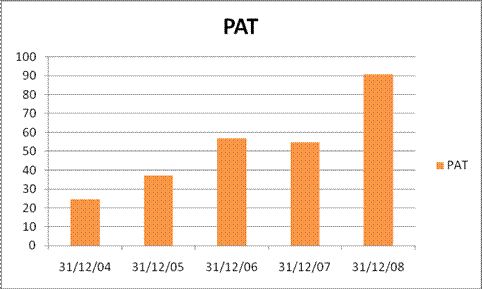 KEY HIGHLIGHTS:
SALE, OPERATING PROFIT AND NET SALES HAS SHOWN A CONSISTENT INCREASE.
TOTAL INCOME INCREASED OVER A PERIOD OF 5 YEARS AT RATE OF 17.28%.
OPERATING PROFIT INCREASED IN THE SAME PERIOD AT RATE OF 18.83%.
NET PROFIT INCREASED IN THE SAME PERIOD SURGED AT RATE OF 38.7%. THIS IS BECAUSE OF INCREASE IN SALES, LOWER INTEREST OUTGO.
RATIOS:
31/12/04

31/12/05

31/12/06

31/12/07

31/12/08

EPS

6.2

9.405063

14.39241

13.83544

22.95949

OPM

11.58705

15.53904

14.82677

10.49149

12.21218

NPM

3.206043

5.17179

7.031801

5.279071

6.274561

INTEREST COVER

5.599462

11.96774

11.47658

29.13953

15.42958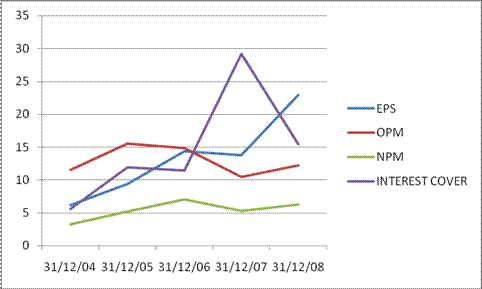 KEY HIGHLIGHTS:
INTEREST COVER IS HIGH SHOW LOW RELIANCE ON DEBT.
NPM IS SHOWING CONSISTENT INCREASE.
EPS IS ALSO SHOWING AN INCREASE AT RATE OF 38% CAGR.
COMPARISON OF Q3 FY2009 WITH Q3 FY2008:
31/12/07

% CHANGE

31/12/08

TOTAL INCOME

226.14

38.70%

313.67

EXPENDITURE

-223.69

-288.41

OPERATING INCOME

2.45

931%

25.26

DEPRECIATION

-5.22

-6.07

PBIT

-2.77

19.19

INTEREST

-2.88

-4.34

PBT

-5.65

14.85

TAX

0.1

-8.23

PAT

-5.55

219.27%

6.62
KEY HIGHLIGHTS:
COMPANY SHOWED LOSS IN THE SAME PERIOD LAST BUT COMPANY HAS MANAGED TO MAKE COMEBACK IN THE THIS QUARTER TO SHOW A GOOD NUMBER.
TOTAL INCOME INCREASED BY 38.07%.
OPERATING PROFIT INCREASED BY WHOPPING 931%.
NET PROFIT ZOOMED BY 291.27% AS COMPANY SWINGS TO PROFIT.
VALUATION AND OUTLOOK:
If we take the WACC of the company as 15% and the terminal growth rate in earning at 10%. By discounting the earning we get the fair price of the company Rs458 per share. The outlook of the company remains very bright as the country is trying to significantly boost its agricultural sector.

CONCLUSION:
The stock is for very patient and long term investor as it won`t daily fluctuation. So if anyone has the patience to hold onto the counter for more than a year can reap a good benefit. The strategy we suggest is to buy small quantity.
Find more Research Reports

Click here for Indian stock market tips
For more details click here
About Us |Site Map| Privacy Policy | Our Partners | Contact Us ||advertise with us |©2005sharetipinfo