SHARETIPSINFO >>Research Reports >> CHAMBAL FERTILISER (05-02-2009)
| | |
| --- | --- |
| LISTING | |
| | Rs 38.10 |
| | Rs 96.50/Rs 29.50 |
| | Rs 10 |
| Market Cap. | 1623 Crore |
| | 8 |
| | 1.6 |
| | 18% |
COMPANY OVERVIEW:
The Company was incorporated on 7th, May, 1985 as a public limited company by the name of Aravali Fertilizers Limited with the immediate object of setting up a gas based fertilizer plant at Sawai Madhopur. The Certificate of Commencement of business was obtained on 18th July, 1985 from the Registrar of Companies, Rajasthan at Jaipur.
The name of the Company was changed to the Chambal Fertilizers and Chemicals Ltd., on 12th January, 1989.
The Company is promoted by Zuari Agro Chemicals Limited ("ZACL"), a Goa based fertilizer Company.
Chambal Fertilizer is a company in the K K Birla Group.

Division of the Company:
Agri Inputs: Chambal's Agri Inputs Division has two hi-tech nitrogenous Fertilizer Plants- Gadepan-I and Gadepan-II located at Gadepan, Rajasthan, India. The two plants produce around 1.73 million tons of urea per annum. The Gadepan Fertilizer Complex is the largest in the Private Sector in India.
Brand: Company markets its product under the brand name of 'Uttam'.
Fertilizer:
Uttam Veer Urea
Uttam DAP
Uttam MOP
Uttam SSP
Uttam Water Soluble NPK
Micro Nutrient:
Uttam Zinc
Uttam Gypsum
Uttam Granubor Natur
Seeds:
Uttam Kranti
Cattle Feed:
Uttam cattle feed
Distribution network: Company reaches to its potential customer through 1500 dealers and 20000 village level outlets across ten states.

India steamship: India Steamship Company Limited was incorporated in 1928 and was one of the oldest Shipping Company in the country. India Steamship was amalgamated with Chambal Fertilisers and Chemicals Limited with effect from September 1, 2004 as its Shipping Division.
Fleet size and capacity:
Fleet capacity of India Steamship is about dwt 500000 MT that consists of five Aframax Tankers-Ratna Urv, Ratna Puja, Shruti, Ratna Shradha and Ratna Namrata.
Birla Textile: Birla Textile Mills (BTM), a Division of Chambal, set up synthetic yarn production facility at Baddi in Solan district of Himachal Pradesh, India with an initial capacity of 27,392 spindles. BTM started commercial production in May 2000. The capacity was subsequently expanded to 40,320 spindles. The Division further set up cotton yarn production facility which went on stream in March 2007. As a result of this expansion, total spindlage has gone up to 80,208.

INVESTMENT RATIONAL:
Decreasing input cost.
Partial decontrol of the sector by the govt.
Fertilizer scarcity in the country led to the import in 2008 monsoon.
Chambal expected to receive Rs2.16 bn worth of bond as fertilizer subsidy.

RISK:
Gas price variation.
Tightening credit scenario can delay expansion.
Subsidy in the form of bond will create liquidity problem.
Easing of import prices will reduce benefits from the new policy for debottlenecking.

SHAREHOLDING PATTERN:
NO.OF SHARE

% OF TOTAL

PROMOTER

205998313

49.49%

INSTITUTION

61606999

14.80%

GENERAL PUBLIC

148602540

35.71%

GRAND TOTAL

416207852

100.00%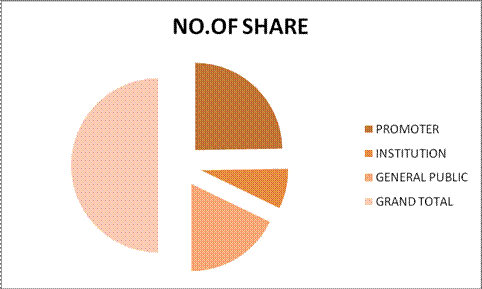 FINANCIAL:
31/03/05

31/03/06

31/03/07

31/03/08

TOTAL INCOME

2720.51

2768.2

2614.19

2802.3

EXPENDITURE

-2274.8

-2310.42

-2135.98

-2281.59

OPERATING INCOME

445.71

457.78

478.21

520.71

DEPRECIATION

-151.32

-158.95

-176.61

-184.91

PBIT

294.39

298.83

301.6

335.8

INTEREST

-78.18

-57.73

-92.11

-91.86

PBT

216.21

241.1

209.49

243.94

TAX

-60.39

-78.41

-66.5

-64.28

EXTRA ORD ITEM

64.82

40.43

8.67

24.17

PAT

220.64

203.12

151.66

203.83
TOTAL INCOME, OPERATING INCOME, AND NET PROFIT remained more or less same through the past 4 years. The period of 2007 operating profit and net profit came down drastically due to the increased cost of input. The increased input cost was transferred to the customers.
Fertilizer sector operates in the heavily regulated environment. We expect certain deregulation of the sector which can put fertilizer sector into back into growth phase.

RATIO:
31/03/05

31/03/06

31/03/07

31/03/08

EPS

5.300024

4.879174

3.643046

4.896229

OPM

16.38333

16.5371

18.29286

18.58152

NPM

8.110244

7.33762

5.801415

7.273668

INTEREST COVERAGE

3.765541

5.176338

3.274346

3.655563
OPM increased by around 200 bp in 4 year period.
NPM came down slightly in the same period because higher interest outgo and depreciation.
Interest cover remained constant at comfortable at 3.7
COMPARISION OF Q32009 WITH Q32008:
31/12/07

% CHG

31/12/08

TOTAL INCOME

822.86

52.55%

1255.29

EXPENDITURE

-663.97

-1057.53

OPERATING INCOME

158.89

24.46%

197.76

DEPRECIATION

-46.73

-60.77

PBIT

112.16

136.99

INTEREST

-19.43

-36.66

PBT

92.73

100.33

TAX

-30.44

-30.3

ETRA ORD ITEM

1.27

5.27

PAT

63.56

18.47%

75.3
TOTAL INCOME UP BY 52.55%
OPERATING INCOME UP BY 24.46%
NET PROFIT UP BY 18.46%

VALUATION:
We expect the 2010E EPS to be around 8,at CMP the stock is trading at 4.87X.In the positively changing scenario of the fertilizer sector we expect the stock to trade at PE multiple of 7. The fair value of the stock we arrive is Rs56. At current price stock has dividend yield of around 4.6%.

CONCLUSION:
Investor with medium to long term horizon can take position on the counter. The value investor can also take position on the counter.
Find more Research Reports

Click here for Indian stock market tips
For more details click here
About Us |Site Map| Privacy Policy | Our Partners | Contact Us ||advertise with us |©2005sharetipinfo