SHARETIPSINFO >>Research Reports >> INDRAPRASTHA GAS (18-11-2008)
| | |
| --- | --- |
| LISTING | BSE |
| | Rs 110 |
| | Rs182/Rs92 |
| | 93200 |
| | Rs10 |
COMPANY OVERVEIW:
Incorporated in 1998, IGL took over the gas distribution project in 1999 from GAIL (India) limited.
IGL is promoted by GAIL (INDIA) LTD and BPCL.IGL is providing gas to entire capital region.

Business objective of the company:
To provide safe, convenient and reliable natural gas supply to its customers in the domestic and commercial sector.
To provide a cleaner environment –friendly alternative as auto fuel to Delhi's resident. This will bring down the high level pollution.
The transport sector uses natural gas as Compressed natural gas (CNG) ,while the domestic and commercial sector uses Piped natural gas (PNG).

BENEFITS OF CNG:
GREEN FUEL: It is called green fuel because of its lead and sulphur free character.
Increases the life of lubricating oil as it does not contaminates and dilute the crank case oil.
Mixes evenly in air.
Safety: CNG is less likely to auto- ignites as it has high auto ignition temperature.
Low operation cost.

BENEFITS OF PNG:
Uninterrupted supply to household.
Safety
Low cost for consumer.
Easy billing.
24 hours customer support.
Environment friendly.
No storage problem as compared to LPG.

FUTRURE OUTLOOK:
IGL now focuses on conversion of private vehicles (private cars) to CNG. In this connection efforts are being made on the private vehicle front encouraging them to convert to CNG mode. IGL has been in coordinating with CNG kit suppliers, Transport Department, Automotive Research Association of India (ARAI) and Vehicle Research and Development Establishment (VRDE) to ease the process for endorsement of the same on Registration certificate of the vehicle.
The company is in the process of enhancing its compression capacity by adding new stations.
IGL is also working towards expanding its gas retail network to the other cities of National Capital Region (NCR) viz. Noida including Greater Noida, Gurgaon and Faridabad. The Company aims to lay natural gas pipe grid in these cities to set up CNG stations and providing PNG to domestic, commercial and industrial sectors.
SHAREHOLDING PATTERN:
NO.OF SHARE

% OF TOTAL

PROMOTER

63000080

45%

INSTITUTION

57448235

41.03%

GENERAL PUBLIC

19551845

13.97%

GRAND TOTAL

140000160

100%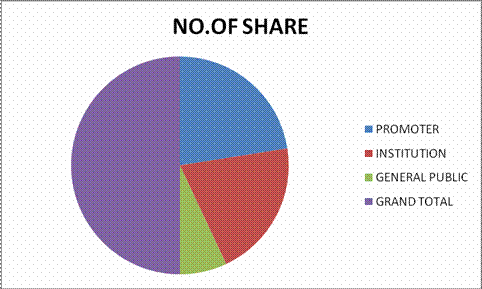 FINANCIAL:
31/03/05

31/03/06

31/03/07

31/03/08

TOTAL INCOME

457.83

526.16

624.29

729.41

EXPENDITURE

-265.58

-307.35

-358.91

-405.95

OPERATING PROFIT

192.25

218.81

265.38

323.46

DEPRECIATION

-48.03

-56.52

-59.81

-62.57

PBIT

144.22

162.29

205.57

260.89

INTEREST

-3.08

-2.16

0

0

PBT

141.14

160.13

205.57

260.89

TAX

-48.44

-53.97

-67.6

-86.43

PAT

92.7

106.16

137.97

174.46
CHANGE IN TOTAL INCOME YOY: CAGR IN TOTAL INCOME IS 16.7%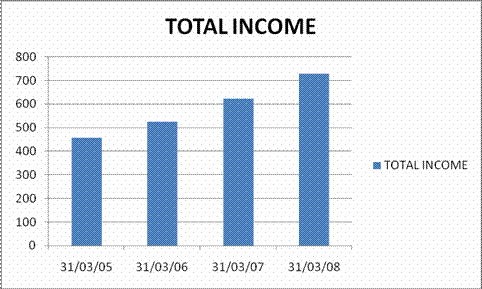 CHANGE IN OPERATING PROFIT YOY: CAGR IN OPERATING PROFIT IS 18.93%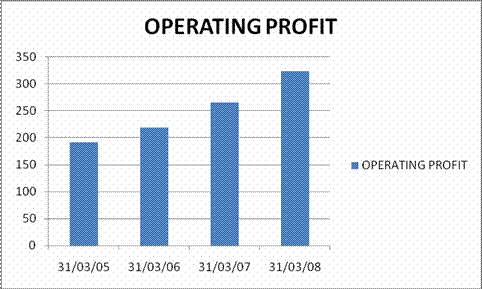 CHANGE IN NET PROFIT YOY: CAGR IN NET PROFIT IS 23.46%.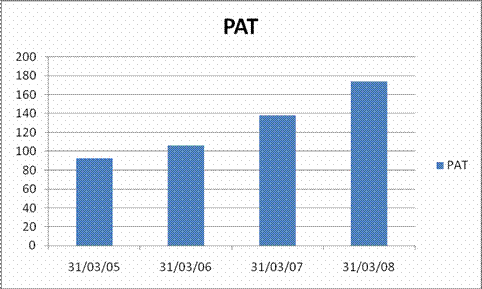 RATIO:
| | | | | |
| --- | --- | --- | --- | --- |
| | 31/03/05 | 31/03/06 | 31/03/07 | 31/03/08 |
| EPS | 6.621429 | 7.582857 | 9.855 | 12.46143 |
| OPM | 41.99157 | 41.58621 | 42.50909 | 44.34543 |
| NPM | 20.24769 | 20.17637 | 22.10031 | 23.91796 |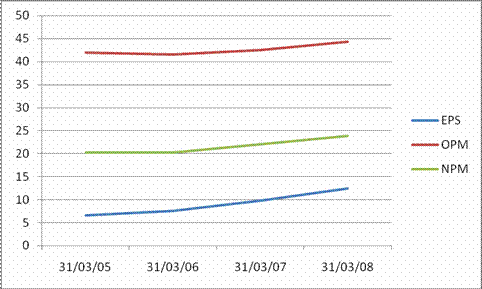 Company is debt free company as the interest outgo is zero in last two years.IGL is operating at very high operating profit margin of more than 41% and it has consistently maintained it for past 4 years.The net profit margin is above 20%, in recent year its NPM ha shown an increase from 20% to 23%.
2QFY2009 FINANCIAL PERFORMANCE:
30/09/07

30/09/08

TOTAL INCOME

178.84

222.04

EXPENDITURE

-99.09

-130.1

OPERATING PROFIT

79.75

91.94

DEPRECIATION

-15.82

-16.85

PBIT

63.93

75.09

INTEREST

0

0

PBT

63.93

75.09

TAX

-21.08

-24.93

PAT

42.85

50.16
CHANGE IN TOTAL INCOME: CHANGE IN TOTAL INCOME IS 24.15%.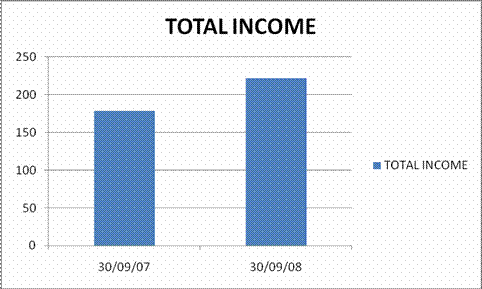 CHANGE IN OPERATING PROFIT: CAGR IN OPERATING PROFIT IS 15.28%.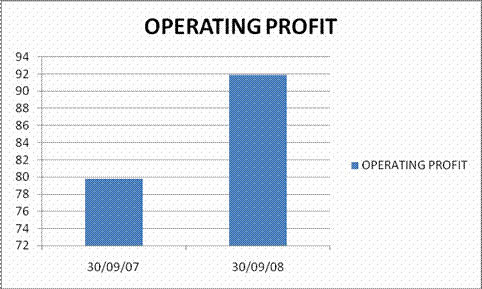 CHANGE IN NET PROFIT:CHANGE IN NET PROFIT IS 17.05%.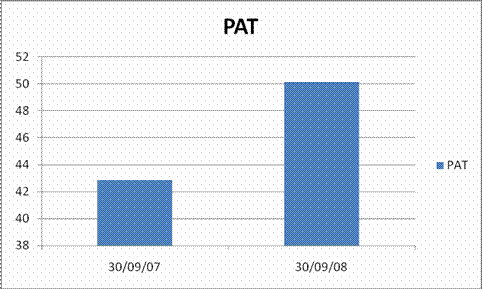 OUTLOOK AND VALUATION:
IGL reported a good number in the second quarter ended. We maintain it will maintain a double digit growth rate in sales for next couple of years. The company is having an ambitious plan to expand its CNG station coverage to nearby areas like greater Noida and Noida. It also proposes to expand its PNG network to newer geographies in and around Delhi.
Decreasing price of gas will further increase the operating profit margin and hence profitability.
The other positive is that company is debt free.
Right now company is trading at 9X to twelve month trailing earning and 7X to FY2009E earning. We feel at least there is some room of appreciation from this value. We expect the price to be in range of Rs 140.The downside in the stock is very limited.
CONCLUSION:
The stock is for risk averse investor. We feel downside very limited as well as the upside potential is 20% to 25%.
Find more Research Reports

Click here for Indian stock market tips
For more details click here
About Us |Site Map| Privacy Policy | Our Partners | Contact Us ||advertise with us |©2005sharetipinfo