SHARETIPSINFO >>Research Reports >> JYOTHY LABORATORIES LTD (21-04-2009)
| | |
| --- | --- |
| LISTING | |
| | Rs 64.9 |
| | Rs138/Rs42 |
| | Rs1 |
| | 9 |
| | 25015 |
| | Rs413 crore |
| | 0.29 |
| | 200% |
| | 3.12% |
COMPANY OVERVIEW:
Jyothy Laboratories was established in the year 1983 by M P Ramachandran. From very humble start in 1983 having presence only in the state of Kerala it now has pan India presence. The company got started by corpus of just Rs40000 and today it has a turnover of in excess of Rs400 crore.

Vision:
Develop innovative brands, tap high growth categories, reach untapped markets and explore untapped segments to meet the day-to-day requirements of every Indian household.

Mission:
Provide brands that denote superior quality, to touch and positively impact the daily lives of consumers. To ensure that our brands, business operations and corporate policies translate the core philosophy of offering value for the money spent to experience our products. Ensure that our people, processes and products reflect the ideals of integrity, ethics and professionalism.
PRODUCT LINE:
FABRIC CARE
Ujala Supreme
Ujala Washing Powder
Stiff & Shine
HOUSEHOLD INSECTICIDE
Maxo Cyclothrin Coil
Maxo Cyclothrin Liquid
Maxo Aerosol
UTENSIL CLEANER
Exo Dish Wash Bar
Exo Dish Wash Liquid
FRAGRANCE
Maya
PERSONAL CARE
Jeeva Natural
ALLIED BUSINESS
Continental Special
Godrej Tea: Jyothy Lab has right to distributes Godrej Tea.
Ekta Dhoop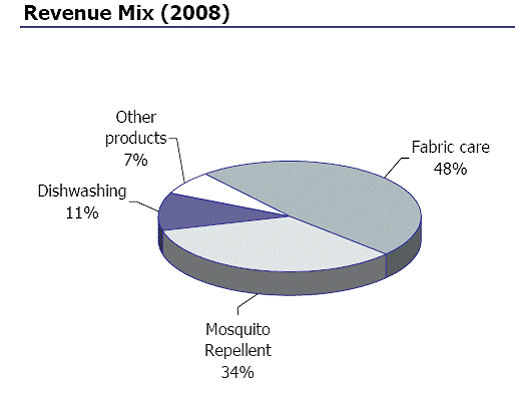 Source: company

KEY INVESTMENT RATIONAL:
Company is debt free.
At the time of fall in the market FMCG sector gives fairly good return.
Falling crude oil which is major input will increase the operating profit margin and hence increase in bottom line.
Good brand recognition of Ujjala.
Pan India presence.
Company stock is trading below its book value.
SHAREHOLDING PATTERN:
NO. OF SHARES

% OF TOTAL

PROMOTER

50516942

69.61%

INSTITUTION

17494788

24.11%

GENERAL PUBLIC

4557070

6.28%

GRAND TOTAL

72568800

100%
FINANCIAL:
31/03/07

% CHANGE

31/03/08

TOTAL INCOME

382.95

0.06%

383.21

EXPENDITURE

-318.02

-309.19

OPERATING INCOME

64.93

14%

74.02

DEPRECIATION

-5.77

-7.41

PBIT

59.16

66.61

INTEREST

-0.18

-0.68

PBT

58.98

65.93

TAX

-7.37

-15.22

PAT

51.61

-1.75%

50.71
Key Highlights:
Total Income almost constant over the period of comparison.
Operating Profit increased by 14%.
Net profit decreased by 1.75%.

Ratios:
31/03/07

31/03/08

EPS

7.118621

6.989662

OPM

16.95522

19.31578

NPM

13.47696

13.23295

INTEREST COVER

328.6667

97.95588
Key Highlights:
EPS remained more or less same at Rs7.
Operating Profit Margin(OPM) moved up 16.9% to 19.3%.
Net Profit Margin (NPM) remained same at 13%.
Interest Coverage ratio declined from 328 to 97. This drastic decline is due to lower base effect. Still we can say that the company is debt free company.

COMPARISION OF Q3FY2009 WITH Q3FY2008:
31/12/07

%CHANGE

31/12/08

TOTAL INCOME

100.54

21.20%

121.86

EXPENDITURE

-82.66

-103.2

OPERATING PROFIT

17.88

4.36%

18.66

DEPRECIATION

-2.04

-2.26

PBIT

15.84

16.4

INTEREST

-0.03

-0.1

PBT

15.81

16.3

TAX

-2.09

-2.31

EXTRA ORD ITEM

6.33

0

PAT

20.05

-30%

13.99
Key Highlights:
Total Income grew by 21.2% in Q3 of FY2009 as compared to Q3 of FY2008.
In the same period Operating Income moved up by just 4.36%. Higher crude oil price during the Crude oil price during the Q3 FY2009 is the main reason for lower increase in operating income.
Net profit decreased by 30%. This decline could be attributed to the addition of extraordinary income in Q3FY2008.

VALUATION:
At cmp Rs64.9 it is trading 9X to trailing twelve month earning. While the FMCG industry average of 12x. The company fair value come to Rs84. So at this price we can have upside of 30%.

CONCLUSION:
Risk averse investor could take position on this counter as there is limite downside to the stock. The investment horizon is 10 to 12 months
Find more Research Reports
Click here for Indian stock market tips
For more details click here
About Us |Site Map| Privacy Policy | Our Partners | Contact Us ||advertise with us |©2005sharetipinfo