SHARETIPSINFO >>Research Reports >> MIC ELECTRONICS (12-03-2009)
Industry- Telecommunication Equipment
| | |
| --- | --- |
| LISTING | |
| | 15.5 |
| | 1023.00/14.50 |
| | 2.00 |
| | 2.2 |
| | 0.2 |
| | 158 Crore |
COMPANY OVERVIEW:
MIC Electronics got incorporated in 1988 at Vijayawada in Andhra Pradesh. Later company shifted its base to Hyderabad in 1990.
MIC is today the global leader in the design, development and manufacturing of LED Video Display, high end Electronic and Telecommunication equipment and development of Telecom software. The company make LED Video display for outdoor and indoor as well as mobile units and also into theme parks and outdoor digital theatres.

The company `s business is divided into three divisions they are: Media group, Info Tech group and Communication and Electronic group.

Media group: Media group is primarily engaged in the development, production and sales of video displays, text, graphics animation displays and display services including lease /rental of LED video walls etc.

Info Tech group: Info Tech group provides telecom switch Access and Computer telephone domain.

Communication and Electronic group: Communication and Electronic group has diversified product portfolio including the Digital Loop Carrier on optical fiber on Synchronous Digital Hierarchy Ring, broadband DLC for triple play (voice/video/data) application, Code Division Multiple Access and Global System for Mobile Communication based Wireless in Local Loop terminal and phones, Hand Held Computer with inbuilt GSM/CDMA modems.
LIST OF PROMINENT CLIENTS:
| | |
| --- | --- |
| | |
| AndhraPradesh Tourism Development corporation | |
| | |
| | |
| Hindustan Petroleum Limited | Life Insurance Corporation of India |
| MTNL | Nuclear Power Corporation of India |
| Port Trust of India | Tirumala Tirupathi Devasthanams |
| Vishakhapatnam Steel Plant | Idea Cellular Limited |
| Indian Railways | Larsen & Toubro Ltd |
| Maruti Udyog Limited | |
| | |
| Tata Tele Services | |
| Reserve Bank of India | State Bank of India |
| Hyderabad Race Course | South Eastern Coalfields Limited |
INVESTMENT RATIONAL:
Its flagship product are LED video display which have become an integral part of the sports stadium, transportation hubs, digital theatre and theme parks, advertisement and public information displays.
It nationwide presence with marketing, sales and service support center in all metros of India. It even has offices in Australia, Dubai, Canada and USA.
MIC in 2006 acquired US based Info Step. With this acquisition MIC hope to sell its flagship product in USA, which accounts for 45% of world LED market.
Company order book stands at Rs250 crore.
It recently got order from Delhi metro worth Rs45 crore.
Ecuador based famous soccer stadium Barcelona sports Club has installed a Perimeter Display Board supplied by MIC.
KEY RISK:
Global economic slowdown.

SHAREHOLDING PATTERN:
NO.OF SHARE

% OF TOTAL

PROMOTERS

37472880

37.24%

INSTITUTION

21627416

21.49%

GENERAL PUBLIC

41537979

41.27%

GRAND TOTAL

100638275

100%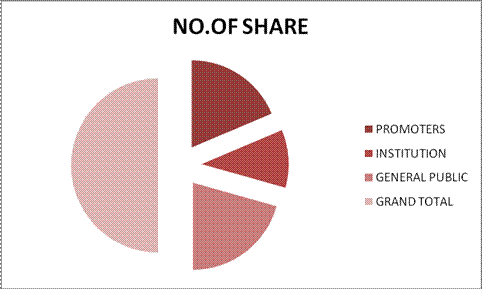 FINANCIAL:
30/06/06

30/06/07

30/06/08

TOTAL INCOME

104.41

239.66

315.33

EXPENDITURE

-84.34

-199.44

-232.04

OPERATING PROFIT

20.07

40.22

83.29

DEPRECIATION

-1.58

-1.68

-1.88

PBIT

18.49

38.54

81.41

INTEREST

-1.74

-2.44

-2.48

PBT

16.75

36.1

78.93

TAX

-1.3

-3.9

-13.14

PAT

15.45

32.2

65.79
CHANGE IN TOTAL INCOME: CAGR IN TOTAL INCOME 73.8%.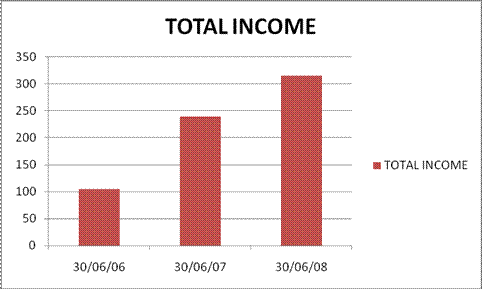 CHANGES IN OPERATING INCOME: CAGR IN OPERATING PROFIT IS 103.7%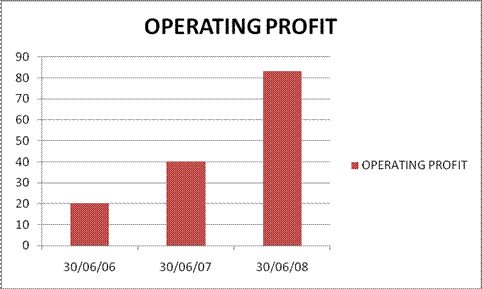 CHANGES IN NET PROFIT: CAGR IN NET PROFIT IS 106%.
RATIOS:
30/06/06

30/06/07

30/06/08

EPS

1.535175

3.199523

6.537162

OPM

19.2223

16.78211

26.4136

NPM

14.79743

13.4357

20.86386

INTEREST COVER

10.62644

15.79508

32.82661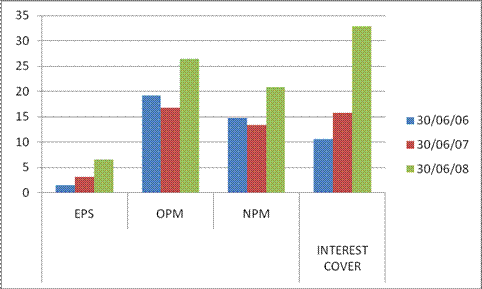 KEY HIGHLIGHTS:
EPS INCREASED OVER THE PERIOD OF 2 YEARS FROM Rs1.5 TO Rs6.53.
OPM INCREASED FROM 19.22% TO 26.41% OVER THE SAME PERIOD. OPERATION IS BECOMING MORE EFFICIENT.
NPM INCREASED FROM 14.79% TO 20.87% OVER THE SAME PERIOD.
INTEREST COVERAGE SHOWED INCRAESING TREND.IT INCREASED FROM 10.6 TO 32.82. THIS SHOWS LESS RELIANCE ON DEBT.
COMPARISION OF Q32009 WITH Q32008:
31/12/07

%CHG

31/12/08

TOTAL INCOME

78.72

-12.70%

68.72

EXPENDITURE

-60.94

-45.86

OPERATING INCOME

17.78

28.57%

22.86

DEPRECIATION

-0.45

-0.57

PBIT

17.33

22.29

INTEREST

-0.57

-1.41

PBT

16.76

20.88

TAX

-3.06

-3.1

PAT

13.7

29.78%

17.78
KEY HIGHLIGHTS:
TOTAL INCOME DECREASED BY 12.7% IN Q32009 AS COMPARED TO SAME PERIOD PREVIOUS YEAR.
OPERATING INCOME INCREASED BY 28.57% IN THE SAME PERIOD. THIS SHOWS CONTINUOS INCREASE IN OPEARTING EFFICIENCY.
PROFIT AFTER TAX HAS ALSO INCREASED BY 29.78% IN THE SAME PERIOD.
RATIOS OF Q32009 COMPARED WITH Q32008:
31/12/07

CHG

31/12/08

EPS

1.361288

29.41%

1.766693

OPM

22.58638

10.68%

33.26542

NPM

17.40346

8.47%

25.87311

INTEREST COVER

30.40351

-14.60

15.80851
KEY HIGHLIGHTS:
EPS INCREASED BY 29.41%/
OPM INCREASED BY 10.68 PERCENTAGE POINTS.
NPM INCREASED BY 8.47 PERCENTAGE POINTS.
INTEREST COVER DECLINED BY 14.6 POINTS.
HISTORIC PE MOVEMENT:

VALUATION:
At CMP of Rs15.55,company is trading at 2.2x to trailing twelve months earning. Seeing the growth and leadership position that company enjoys we feel company stock is trading at huge discount at current price. Median PE stands at 20,even if downgrade the valuation of the stock due to current economic slowdown ,we expect company should be valued at around 8x to its earning potential. So we feel the stock price is undervalued and the fair price somewhere should be around Rs56. This gives a huge appreciation potential to the stock price. The downside in the stock is also limited.
The stock is also trading below its book value, this could also be seen as fundamental reason to buy the stock.

CONCLUSION:
The stock is gem at current market price. Investor should accumulate the stock as the company has huge growth potential.
Find more Research Reports
Click here for Indian stock market tips
For more details click here
About Us |Site Map| Privacy Policy | Our Partners | Contact Us ||advertise with us |©2005sharetipinfo