SHARETIPSINFO >>Research Reports >> SYNDICATE BANK (17-12-2008)
| | |
| --- | --- |
| LISTING | BSE |
| | Rs. 59 |
| | Rs129.95/Rs46.5 |
| | Rs. 10 |
| PE RATIO | 4 |
| P/BV | 1 |
| | 13% |
| | 2.09% |
COMPANY OVERVIEW:
Syndicate bank was established in 1925 in Udupi with a capital of Rs8000 by three visionaries –Sri Upendra Ananth Pai, a businessman, Sri Vaman Kudva, an engineer and Dr.T.M.A.Pai, a physician.
In the earlier days the bank collected as low as two anna daily under the Pigmy Deposit scheme. As the time passed by this Pigmy deposit scheme has become the brand equity today. At present bank collects over Rs2 CRORE daily under this scheme.
From just one branch in 1925 the Syndicate Bank has grown leaps and bound to have over 2000 branches now.
The bank is now well equipped to face the multinational banks. Bank has adapted technology to beat competition. Today all the branches are computerized and centralized banking system is implemented.

BANKING INDUSTRY OVERVIEW:
PSU banks have been rapidly expanding their balance sheet over the past three years. It is evident from the chart as the gap in business growth of scheduled commercial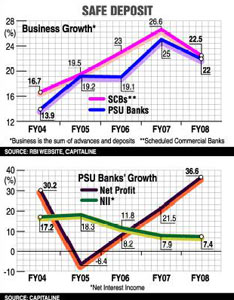 banks (SCB`s) and PSU banks is narrowing.
Banks generates a 'spread' by accepting deposits and lending advances. This is measured by net interest income (NII), which is the difference between the interest earned and interest expended. It is surprising to note that there was no relation between the growth rate in NII and net profit of the PSU banks over the period of five years. The growth in net profit of PSU Banks was more than 20% in the past two fiscal years, while the growth in NII was less than 10%.
So, main driving force in PSU banks bottom line is rationalized cost structure.
SECOND PHASE OF LIBERLISATION IN BANKING:
Second phase of opening of Indian banking sectors would commence in April 2009.

KEY AREAS:
Foreign banks will have opportunity to own up to 74% of Indian private banks.
Foreign banks will have the opportunity to own 20% of govt owned banks.
Banks have to comply with Basel 2 norms.(Basel is measurement of solvency of bank, categorizing the asset based on the riskiness of asset)
CAR (capital adequacy ratio) of 12% by March 2010.
According to rough estimate CAR of 12% by March 2010, the public sector banks would require an additional of Rs 3000 bn.This is arrived at after considering requirements of capital to fund growth, expected NPA write off and Investment in IT and other infrastructural hurdles like restriction in capital availability (due to high govt ownership), restriction on credit deployment and restrictive labor law, weak corporate governance have impaired the ability of Indian public sector banks. Also, there are stringent restriction on fdi and fdi participation in public sector banks.

SWOT ANALYSIS:

STRENGHT:
Pan India presence.
Strong rural presence: This is key strength of Syndicate Bank as it has strong presence in the rural India. Rural India is having big growth potential as the urban areas are becoming saturated and is facing stiff competition.
Implemented IT across the branches.
Centralized banking system.
Government owned bank: This guarantees in today's circumstances the safety of the deposit and excessive regulations of the government prevent it from taking speculative position.

WEAKNESS:
Not present in big way in urban areas.
Bureaucratic culture still prevailing in the bank.
Excessive government regulation is hindering the pace of expansion.

OPPORTUNITY:
Liberalization of banking sector in 2009 will force the government to de regulate the sector.
Indian bank will have the opportunity to go abroad.
As investors are scarry of private bank in today's circumstances. They prefer PSU bank, this could be an opportunity.

THREAT:
Coming of MNC bank post April 2009.
Ongoing economic recession.
Government regulation.
SHAREHOLDING PATTERN:
| | | | |
| --- | --- | --- | --- |
| | | NO.SHARES | % OFTOTAL |
| CENTRAL GOVT | 346968282 | 66.47% | |
| INSTITUTION | 80433955 | 15.41% | |
| GENERAL PUBLIC | 94566045 | 18.12% | |
| GRAND TOTAL | 521968282 | 100% | |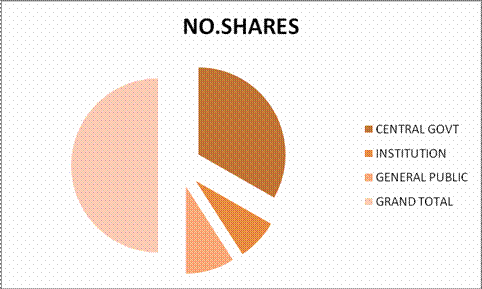 FINANCIAL:
31/03/05

31/03/06

31/03/07

31/03/08

TOTAL INCOME

4322.18

4642

6658.55

8796.37

EXPENDITURE

-3328

-3604.36

-5275.99

-7328.11

OPERATING PROFIT

994.18

1037.64

1382.56

1468.26

PROVISION&CONTINGENCIES

-560.81

-486.1

-654.74

-463.54

PBT

433.37

551.54

727.82

1004.72

TAX

-30.47

-15.04

-11.75

-156.66

PAT

402.9

536.5

716.07

848.06
CHANGE IN TOTAL INCOME: CAGR IN TOTAL INCOME IS 26.72%.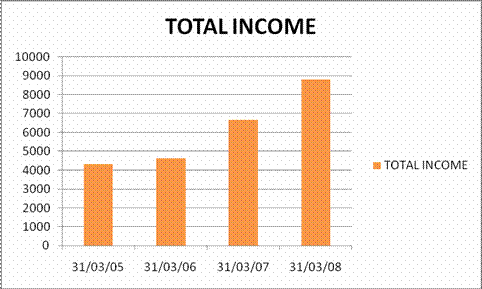 CHANGE IN OPERATING INCOME: CAGR IN OPERATING INCOME IS 14.34%.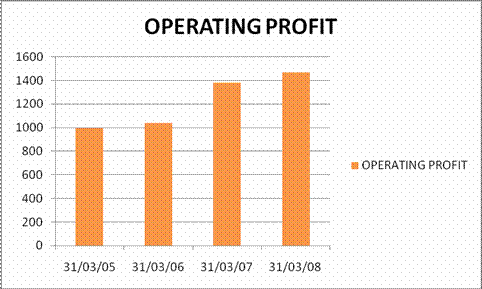 CHANGE IN NET PROFIT: CAGR IN NET PROFIT IS 28.15%.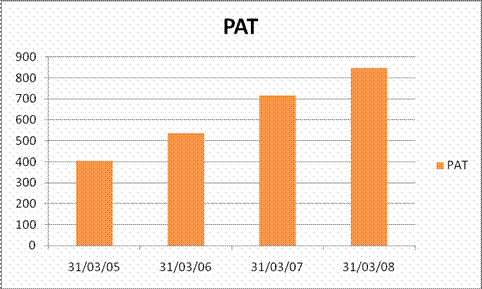 RATIO:
| | | | | |
| --- | --- | --- | --- | --- |
| | 31/03/05 | 31/03/06 | 31/03/07 | 31/03/08 |
| EPS | 7.71987 | 10.27975 | 13.72044 | 16.24947 |
| OPM | 23.00182 | 22.3533 | 20.76368 | 16.69166 |
| NPM | 9.321685 | 11.55752 | 10.75414 | 9.641022 |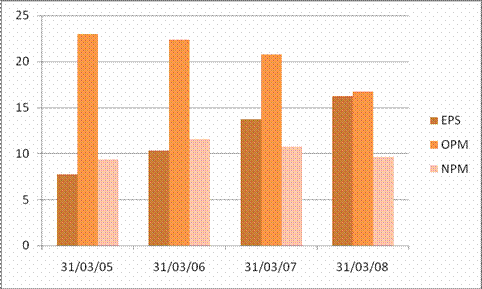 Earnings per share has shown year on year growth because of increase in total income. Operating profit margin declined from 23% in 2005 to 16.6% in 2008.Net profit margin also remained under pressure. It remained constant at 9.3%.

COMPARISON OF Q2 FY2009 WITH Q2 FY2008:
30/09/07

%CHG

30/09/08

TOTAL INCOME

2155

17.26%

2527.02

EXPENDITURE

-1828.97

13.13%

-2069.21

OPEARTING PROFIT

326.03

40.40%

457.81

PROVISION&CONTINGENCIES

-58.95

133.40%

-137.6

PBT

267.08

19.89%

320.21

TAX

-39.5

47.50%

-58.3

PAT

227.58

15.08%

261.91
VALUATION: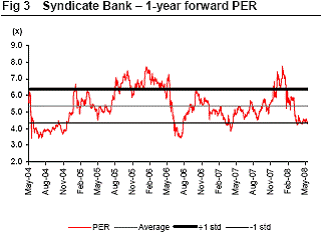 It is trading at 4X to trailing twelve months earning. The average PE multiple of Syndicate banks of past 4 years works out to be 5.4X.So,on conservative basis even if there is no growth in the earning the price of the stock should be somewhere around Rs97.2. It is trading at significant discount of 54% from its real value. Sooner or later it will catch up with its valuation.

CONCLUSION:
Investor with low risk appetite could comfortably take position on this counter with medium to long term investment perspective.
Find more Research Reports

Click here for Indian stock market tips
For more details click here
About Us |Site Map| Privacy Policy | Our Partners | Contact Us ||advertise with us |©2005sharetipinfo