SHARETIPSINFO >>Research Reports >>TV TODAY NETWORK (31-10-2008)
| | |
| --- | --- |
| LISTING | BSE |
| | Rs 59.95 |
| | Rs 199/Rs 47 |
| | 26946 |
| | 0.8 |
| | 7.7 |
| | 1.34 |
COMPANY OVERVIEW:
The group main activity is to provide entertainment and media services. The company is promoted by Live Media India ltd, owned by Arun Purie.
TVTN was established in 1988 as a media content provider. In 1995, TVTN commenced with the broadcast of Aaj Tak on Doordarshan as 20min Hindi news and current affairs programme.
The company is a focused News broadcaster with a strong bouquet of four
News channels, has maintained its leadership in the News Genre over seven consecutive
Years.

BUSINESS MODEL OF THE GROUP: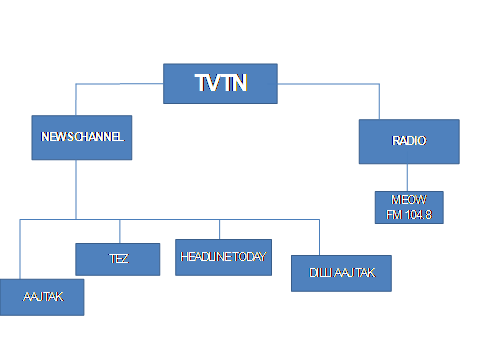 Research: sharetipsinfo
TVTN remains number one News broadcaster with 22% share in the national news viewership segment.AAJ TAK is TVTN flagship news channel catering to Hindi news viewers.TEZ other channel from TVTN which caters to those viewer who needs rapid wrap up of the ongoing events. HEADLINE TODAY is for more sophisticated people, who hook to the English news channel.DILLI AAJ TAK is the regional channel -metro centric, targeting viewers of Delhi and NCR.
TVTN network has made inroad into the international market by distributing AAJ TAK and HEADLINE TODAY in the Middle east, US,UK and Continental Europe.
In order to reduce its dependence on the advertisement revenue TVTN has recently went pay in November 2007 in the non CAS area. For distribution of its pay channel TVTN has entered into a strategic tie up with One Alliance group.
TVTN has decided to merge its Radio Today with itself. Radio Today launched first women centric channel under name of Meow 104.8 FM. It follows the concept of less music more talk. It is more of interactive radio station dedicated to women.

NEWS INDUSTRY:
NEWS industry grew leaps and bound in past 7 years. Its share was 2.5% of the total viewership in 2002 and now it commands 8.1% of the total viewership.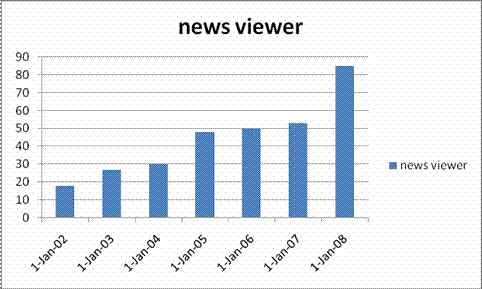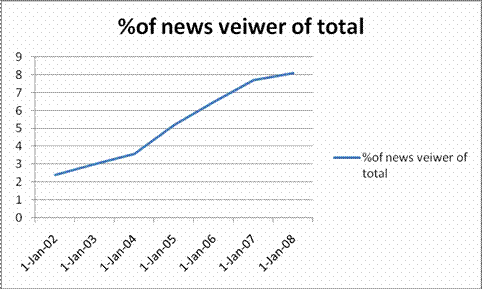 NATIONAL NEWS CHANNEL FUELING GROWTH:
Increasing number of news channel has started competition for delivering better product. This has also attracted completely new set of viewer and hence increasing the viewership in total.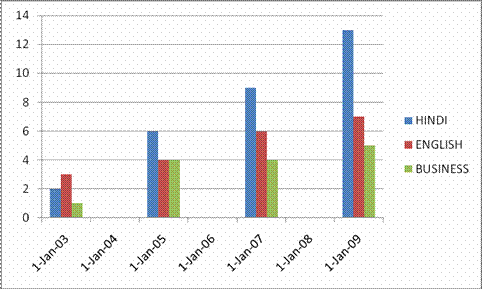 ADVERTISEMENT:
NEWS channel is having just 8% of the total viewership but it takes 12-13% of the total advertisement share of television.
| | |
| --- | --- |
| | % OF NEWS AD SHARE |
| HINDI | 56 |
| ENGLISH | 25 |
| BUSINESS | 19 |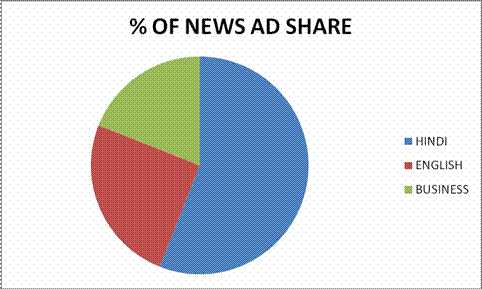 | | |
| --- | --- |
| | % OF NEWS VIEWERSHIP |
| HINDI | 81 |
| ENGLISH | 10 |
| BUSINESS | 9 |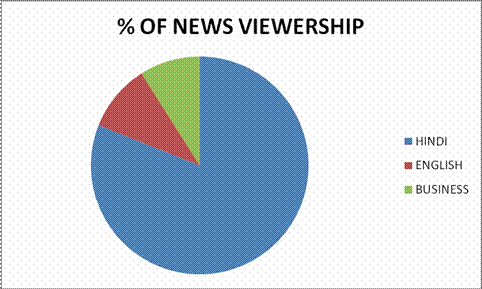 NEWS NETWORK SHARE (VIEWERSHIP):
TVTN has kept its leadership position intact though there was severe onslaught in the news segment from the new entrant. NDTV lost most of its viewer.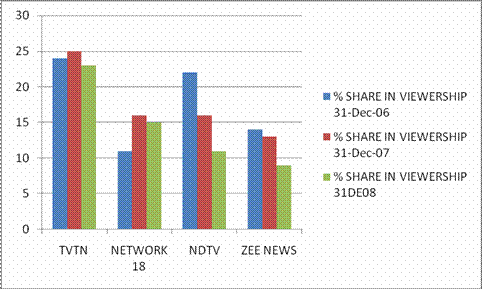 ADVERTISEMENT RATES:
We see that TVTN flagship channel AAJ TAK charge around 35-40% premium over other channel in the same genre.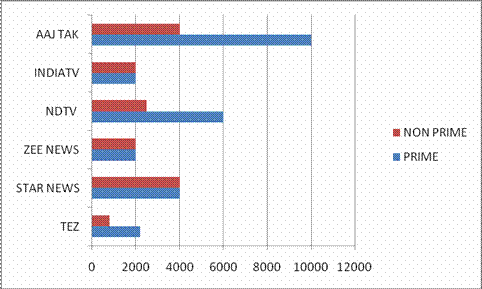 POSITIVE ABOUT THE COMPANY:
Strong brand of AAJ TAK allows TVTN network to maintain its leadership position.
AAJ TAK went pay in last fiscal, it will increase its top line without any significant increase in the cost. This will be reflected in its FY09 revenue.
TVTN has merged its Radio today with itself will allow to de risk its revenue and at same time allow its advertiser to have package of both television and radio advertisement. Thus developing a synergy.
Company has not ventured into any business where it does not have core competency as other news channel player. Thus saving the money for better business.
Command higher advertisement rate as compared to other news channel.
Advertisement is quite cheaper on news channel as compared to GEC.
AAJ TAK has the ability to changing viewer demand and its strength in quality programming.
TVTN has acquired license for FM radio at lowest price, enabling it to break even faster.

KEY CONCERN:
Own single flagship AAJ TAK.
Lack of new growth.
Plan to scale up in news genre by entering into regional market and foraying into other channels like lifestyle and entertainment not materializing.

SHAREHOLDING PATTERN:
NO.OF SHARE

% OF TOTAL SHARE

PROMOTER

32300000

55.68%

INSTITUTION

10603746

18.28%

GENERAL PUBLIC

15105254

26.05%

GRAND TOTAL

58009000

100%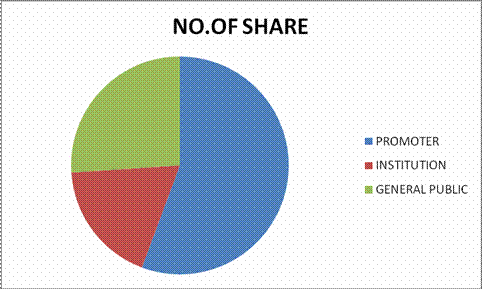 FINANCIAL:
31-Mar-08

31-Mar-07

31-Mar-06

TOTAL INCOME

251.42

202.44

167.89

EXPENDITURE

-168.62

-137.1

-107.52

OPERATING PROFIT

82.8

65.34

60.37

DEPRECIATION

-16

-17.01

-17.64

PBIT

66.8

48.33

42.73

INTEREST

-0.9

-0.12

-0.11

PBT

65.9

48.21

42.62

TAX

-23.16

-17.02

-14.85

PAT

42.74

31.19

27.77

EPS

7.3689655

5.3775862

4.787931
CHANGE IN TOTAL INCOME: CAGR IN TOTAL INCOME IS 22.37%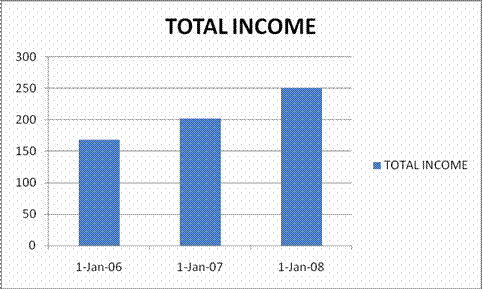 CHANGE IN OPERATING PROFIT: CAGR IN OPERATING PROFIT 17%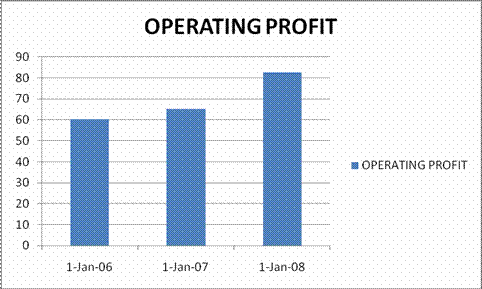 CHANGE IN NET PROFIT: CAGR IN NET PROFIT 24.05%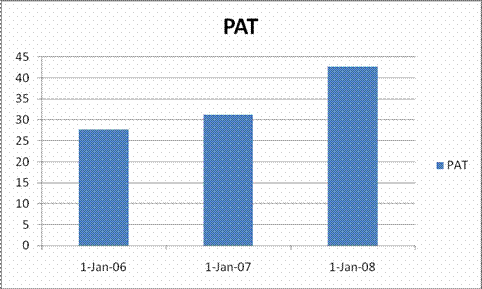 RATIO:
31-Mar-08

31-Mar-07

31-Mar-06

NPM

16.999443

15.407034

16.540592

OPM

32.932941

32.27623

35.958068

INTEREST COVERAGE

74.222222

402.75

388.45455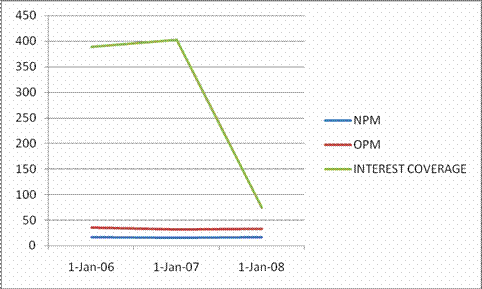 Company is maintaining a healthy profit margin. As compared to its peers it has shown a consistent profit. The company is debt free company. TVTN has not deployed its cash in any risky activity.

VALUATION:
TVTN is trading at 7.7x of previous years earning. We expect earning to rise in FY09,as revenue from subscription business will start flowing. It is expected that advertisement rate is also going to be increased. Historically TVTN has commanded the PE multiple of 14.We expect 30-40% appreciation in the price of the stock from the current level. TVTN is also having an investment which is at around Rs 28/share.

CONCLUSION:
We expect whole of the media sector to grow at rate of 18% and news genre will be taking maximum share out of this cake. TVTN being number one ,company we are very much confident that the company is undervalued at this price. Company foraying into other media segment will add value to the company valuation.
Find more Research Reports

Click here for Indian stock market tips
For more details click here
About Us |Site Map| Privacy Policy | Our Partners | Contact Us ||advertise with us |©2005sharetipinfo